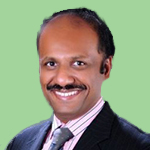 As the Financial Controller, Varughese is responsible for managing the company's finance and administration department. In addition to financial strategy and management, and operational accounting, he is responsible for developing and maintaining the intricate financial systems required to ensure transparent and accurate electronic royalty payouts to Al Manhal's publishing partners.
Varughese has over 19 years experience in Financial Management, Accounting, Costing, MIS report and Auditing.

Prior to joining Al Manhal, Varughese was the Financial Controller with G4 Group of Companies, a Dubai based group with activities across the GCC . Prior to that he was a Senior Auditor for Talal Abu Ghazaleh & Co., Certified Public Accountants, Dubai, UAE.